Controlling Newcastle Disease in Village Chickens: A Laboratory Manual
Since its first publication in 2002, the Laboratory Manual has been used successfully in many African and Asian countries that both produce and use I-2 ND vaccine.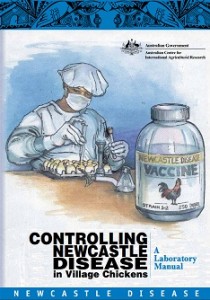 Successful and sustainable control of ND in village chickens is achieved through vaccination and depends on a reliable, readily available and affordable supply of vaccine suited to the needs of village chicken owners. Local production of I-2 ND vaccine and its use in ND control programs are ongoing in a number of countries and have resulted in improved chicken production and improvements in the living conditions of many vulnerable rural families in developing countries.
The manual is recognised as a valuable source of information for laboratory personnel and has formed the basis of practical training workshops for scientists and technicians in vaccine-producing laboratories in Africa and Asia. This increased capacity allows countries to control the quality of both locally produced and imported vaccines, and ensure effective vaccine delivery in areas where cold chains are unreliable.
KYEEMA edited and prepared the second edition in 2012 due to increasing interest in local production of ND vaccine, particularly I-2. Translation into French ensures that this information is readily available to Francophone countries. Both hard copy and CDs have been printed and are available from ACIAR or KYEEMA.