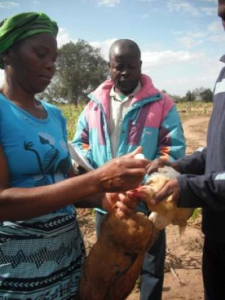 "During the first vaccination campaign I managed to vaccinate only 250 birds, but now I vaccinate on average 950 chickens."
In September 2009 I was selected to go to Chibuto district headquarters to attend a training to become a community vaccinator. At that time I had eight chickens and I knew from my own experience that when the disease comes my birds would be affected. I readily accepted. The training lasted three days and in November we started the vaccination campaign. Initially, most of the farmers were reluctant to vaccinate their chickens but with the leaders and the livestock extension staff we have been raising awareness among the farmers. Now most people know that they have to vaccinate three times a year and when the ND vaccination period approaches they look for me to go and vaccinate their chickens.
Up to now I have participated in 11 vaccination campaigns. With the money that I get I bought three chickens and right now I have 46 chickens. I bought also capulana (sarong), my house is better and even has a latrine. Part of the money is used to help in the field when the time for preparing the fields for sowing comes. I have three children; two of them are in school. Last year I sold two chickens to buy the books and uniforms for them.
I feel proud to be a vaccinator because I see the benefit of vaccinating the chickens and most of my neighbors already know me.