Regional Newcastle Disease Control Project: Malawi, Mozambique, Tanzania and Zambia
The Australian Government through the former Australian Agency for International Development (AusAID) has provided long-term support to the KYEEMA Foundation in southern Africa for this project. The project aim was to strengthen the capacity of the Governments of Malawi, Mozambique, Tanzania and Zambia to develop and implement efficient and sustainable Newcastle disease (ND) control and village poultry extension programs to improve the welfare of rural communities.
Project partners
Governments of Mozambique, Tanzania, Malawi and Zambia
Main components
Community ownership and partnerships: aims to develop effective and sustainable community participation and ownership of a ND control program.
Communication and education: to provide effective training, education and awareness raising of relevant community members, community vaccinators, NGOs and extension and veterinary staff in relation to ND control and poultry husbandry.
Vaccine production and vaccination: the provision of technical inputs and support of capacity building required to establish and support the development of the I-2 ND vaccine and a sustainable ND control program for village chickens.
Effective project management.
In these countries, the Governments look to the control of ND in the family sector through mass vaccination campaigns as a priority intervention. In Tanzania, the government established a "Kuku day" (chicken day) as a national day to recognise the contribution of village chickens and the need for ND control. In Mozambique, ND control in village chicken is one of the key performance indicators for the Ministry of Agriculture.
The support provided from 2006 through to 2014 has strengthened the capability of, and relationship between, stakeholders in order to successfully implement ND control programs and achieve a decrease in chicken mortality rates caused by ND in project areas. Through these activities, village poultry production has been increased and this will contribute to food security and poverty alleviation of the population in project areas. KYEEMA staff have been involved with Australian funded ND control activities in southern Africa since 1998, when the first trial work was undertaken in Mozambique. The work expanded to a regional activity funded for Tanzania, Malawi and Mozambique from 2002-2005, with Zambia added in 2009.
Our key project partners in each country were the respective Ministries of Agriculture/ Livestock Development and Fisheries; and the Central Veterinary Laboratories in Malawi and Tanzania; the Central Veterinary Research Institute in Zambia and the Directorate of Animal Science of the Mozambican Agricultural Research Institute.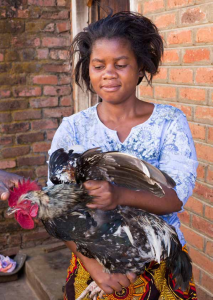 Dr Bob Pym conducted the end of Project Evaluation. His report discusses the success of the project in meeting its overall goal of improving the level and efficiency of poultry production in the project areas and of contributing meaningfully to food security and poverty alleviation. He wrote:
This project represents a most impressive logistical undertaking, bringing together as it does the development of I-2 ND vaccine production capability in the four countries and the effective distribution to, and promotion and testing of this in village communities through close involvement of government personnel in community education and training programs.….The qualitative PRA data suggests quite a dramatic impact upon the project goals of poverty alleviation and home food security in those households following the promoted ND control program, in many of the regions.
Project activities have contributed to a more robust approach to addressing ND control by supporting I-2 vaccine production and human resource development at the central veterinary laboratories, raising awareness of ND control and implementation of regular vaccination campaigns in the four countries involved.
In Tanzania, Malawi and Mozambique there is a significant increase in participation in vaccination campaigns and, in general, an increase in the flock size and percentage of households owning chickens. Farmers reported fewer deaths in chickens since vaccination and ND is no longer identified as the main cause of death. In Zambia the laboratory trials on vaccine have been completed and vaccine has been prepared for the field trials. The cost of vaccine production and distribution was estimated. Community vaccinators and community leaders were trained in ND control in preparation for the field trial.